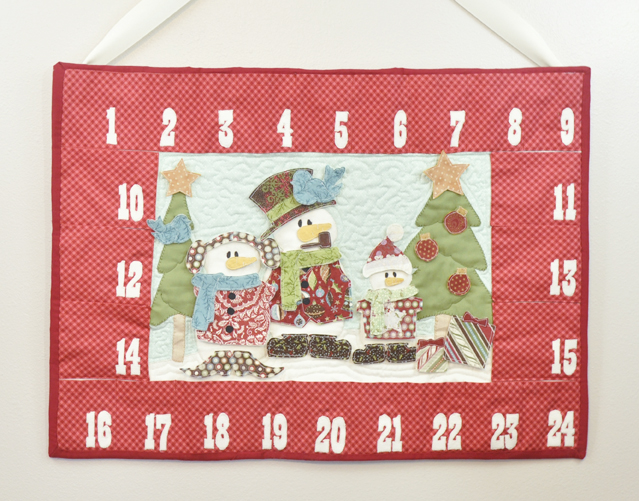 Before I publish any pattern, I send it to my amazing pattern testers to make sure I've dotted all my 'i's and crossed all my 't's.  They do such a fantastic job, and often times come back with suggestions that are better than anything I ever would have thought of myself.
This year I'm excited to finally be testing our Splendid Snowman Advent Calendar pattern.  It takes a bit more time to make up than our typical patterns, and I've spent a fair amount of time worrying about how that will affect my testers.  I need to put some sort of deadline in place to be sure I get their responses, but too tight of a deadline would surely frustrate anyone.  I eventually decided to set things up as a 6 week 'Sew Along' on this blog.  Each week I'll blog about what needs to be done so my testers can make sure they're on track.
Since I'll be using this blog to post the Sew Along, I thought I'd invite you to join us!
It's a great skill builder for beginning sewists- by the time you're done you'll have learned a super easy applique technique, basic quilting skills and how to bind a quilt.   Please read through the following information carefully to see how things will work this time around 🙂
Everyone who signs up by Friday, October 17th 2014 can test this pattern
The unofficial PDF pattern will be sent out Saturday, October 18th ('unofficial' because it is not yet tested, and therefore might have spelling errors, typos etc)
You will have 6 weeks to complete your advent calendar and fill out a questionnaire about the pattern (That gets it done by December 1, so you can actually use it this year!)
To help keep us motivated, I'll be hosting a 6 week Sew Along on this blog.  I'll break things up and show you what needs to be finished each week. You'll have the opportunity to ask questions, show off what you've done and get inspired by the work of the other testers.
All testers who complete the questionnaire will receive the edited, final version of our Splendid Snowman Advent pattern as a thank you for their work.
Sound like fun? Sign up below! (Please remember that by signing up, you're committing to finish the project by December! )
I look forward to seeing what you create!