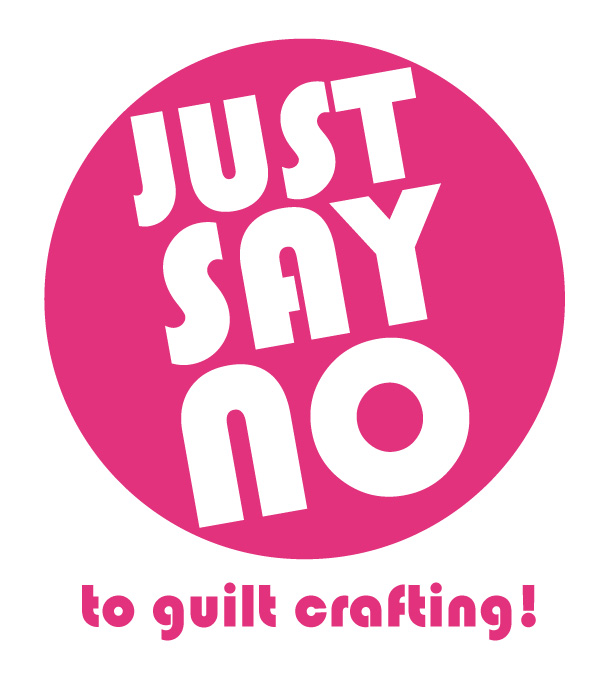 I was standing in line at the cut counter at my local quilt shop as the lady in front of me explained how she got roped into an enormous sewing project for her daughter in law.  It was funny how every person in that store, myself included, rolled our eyes in complete appreciation of the situation.
I mean, what crafter hasn't been guilt-tripped into a project?
When Doug and I were newly married, I got into the biggest Guilt Crafting nightmare of my life.  We'd begun attending church near our new apartment.  We hardly knew anyone, but slowly it got out that I was a crafter.  One day a lady came up to me and asked, "You knit, right"  "Yeah, I do!" I replied (I was so naive!)  "Follow me" she replied.
So I followed her to where a cute little old lady was sitting.  I was quickly introduced to the lady, who by the way was at least 145 years old, and then told that she was helping out with a big knitting project and needed help.  Then the first lady walked away.  No one ever actually asked if I'd like to be part of this mysterious knitting project.  But suddenly I was part of it.  (it was a mean trick!  Who can say no to a cute old lady?)
And so my Guilt Crafted Mitten Saga began.  Apparently the leaders of our church's youth group had decided they wanted to give the teen age girls each a pair of mittens as a gift.   And, apparently, they'd decided they didn't want to spend the money to buy mittens, so they decided they'd find some women at church to knit them.  I mean knitters are just sitting around looking for projects to do for other people, right?
Ugh.  My blood is boiling just thinking of it.
There ended up being 3 of us, which came out to each of us knitting 3 pairs of mittens.  We were supplied with yarn (just imagine the cheapest, scratchiest, bulk sized skein of yarn ever and you'll know just what we got.  Oh, and it was small yarn, which means a lot more knitting for each mitten).  The 145 year old lady provided the pattern (and so it was of course, an ugly, grandma style mitten pattern).
So there I was, trying to finish college, newly married and still rather new to my chronic illness.  I had a lot to adjust to as it was, and suddenly all my spare time was taken up knitting ugly mittens (trust me- no one would like the mittens we were making, especially not the group of teenage girls who would receive them).  On top of it all, the 145 year old lady decided we should meet on a regular basis while we were getting them done.  If we'd met to work on the mittens, that would have been one thing.  But that sweet old lady was convinced that she had to teach us how to knit. (I'd had been attending classes at a local knitting shop for years at that point and was a pretty advanced knitter.  The other girl had knit half her wardrobe.)
So we'd go over and she'd show us what knitting looked like.  Then she taught us about knitting needles and how to cast on. etc. etc.  It didn't matter that by the 3rd or 4th time that we met, we were showing up with completed pairs of mittens.  She was determined to teach us the basics.
As I knit, I'd add it up in my head.  Each mitten took me about 8 hours to knit.  Three pairs means six mittens total, so there's 48 hours right there.  With all the 'knitting lessons'  I had to attend during the process I was putting well over 60 hours into these stupid, ugly mittens.  I thought of a hundred things I wanted to say to those youth leaders:
"If you really want handmade mittens, I could find you some really cute ones on Etsy that the girls will actually wear."
"How about we teach the girls to knit and they could make their own mittens?"
"How about we teach YOU to knit so you could make these stupid mittens?"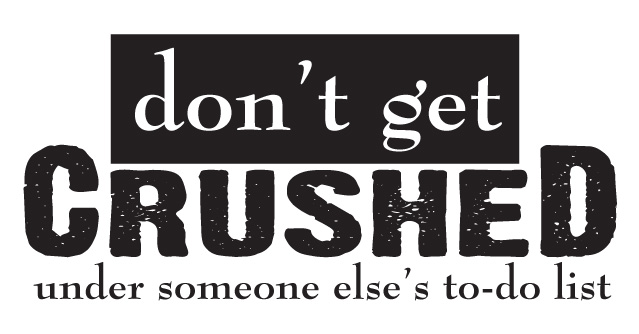 I finally finished my 3 pair of mittens and brought them with me to our twice weekly 'knitting lesson', so relieved that I'd finally be able to get some homework done.  I walked in, placed the mittens on the table and looked up at that adorable old lady who said, "Well, we've got enough yarn left over, we're going to make each girl a scarf to match."
My eyes teared up. My life had been put on hold for these stupid mittens for so long, I had to get back to it.  I said sorry, but I just couldn't keep going.  I left and proceeded to feel completely horrible.
My sister had been getting annoyed updates from me during the whole process.  When I called and told her how horrible I felt, she said something I will never forget.  "Good!  This is great.  This is The Project That Taught You to Say No."
She was right- I will never put myself under so much stress for something that is completely unnecessary.  In fact, after that experience I hardly ever do any Guilt Crafting at all.  And trust me, it's not because people aren't asking!
Over the years I've worked on the art of Saying No.  I feel like I've got a pretty good system worked out.  Here's what I do.
1. Decisions. The first step is obvious; I just make sure I actually don't want to do it.  I hate getting guilt tripped into making something for someone I hardly know, but I love making something handmade for someone I love.  I'm also happy to lend a hand for charity, when having something handmade will truly benefit the cause.  (If I don't think think something handmade is necessary, I'll just head over to TJMaxx and buy some sturdy items to donate instead)  If it's something I'm happy to do, then I accept the project and go on with my day.  If it's looking like it will turn into Guilt Crafting I move onto Step 2.
2. Divide.  People are always looking for a freebie.  Even if they don't even know you.  I have so many people ask me for favors that I've made a personal rule that I can only do them if their relationship with me can be described in one word.  'Cousin' works, but 'friend of cousin' doesn't.  And 'cousin's friend's roommate' certainly doesn't.  If the person asking falls into the 'more than one word' category, I just say, "I'm so sorry, I have so many people asking me for help that I've had to make a rule…" and then I explain the rule and am done.
3. Educate.  If they fit into the 'One Word' rule, I like to begin by finding a polite way to inform them what exactly they are asking of me.  Most the time, they have no idea what will be required and would be horribly embarrassed to know I spent 6 hours on something they thought would take 30 minutes.  I usually say something like this, "Oh wow, your baby would be adorable in that Halloween costume!  Now, let me see… it looks like this particular pattern will take me about 6 hours to make up…" Typically at this point the person will say, "Whoa?  Seriously?!  I had no idea- I'll just figure something else out!"  If not, I move onto Step 4.
4. Negotiate.  There are two ways I like to negotiate.
If it's a project I really don't want to do, I'll say something like this, "You know, I just don't think I could fit this into my schedule right now, but I'd be happy to teach you how to do it!" Ending with a positive offer tends to make the conversation less awkward.  And the double bonus is, I've used this line countless times and never had anyone actually take me up on it so it works as a pretty easy out.  (although, you should probably plan on them accepting, just in case!)
If it's a project I wouldn't mind working on, but I have a hard time committing that much time with no compensation I'll use the Time for Time trade.  It goes like this; "For friends and family I do a Time for Time trade.  Since this Halloween costume will take me about 6 hours to make, is there something you could trade that would be worth 6 hours of work?"  I love this concept.  The people who don't appreciate how much my time is worth usually say, "Oh, I'll think about it…" and never get back to me (woohoo!).  Those who DO truly appreciate my time and effort will happily trade.  And seriously, if someone wants to come clean my house while I sew for them, it makes for a very happy trade!  I've also been paid in a free haircut and style from a hairstylist, free advertising on a prominent website, even a sushi making kit straight from Hawaii.  Time for Time trades are lots of fun!
How do you avoid getting sucked into Guilt Crafting?  I'd love to add a few techniques to my repertoire 🙂