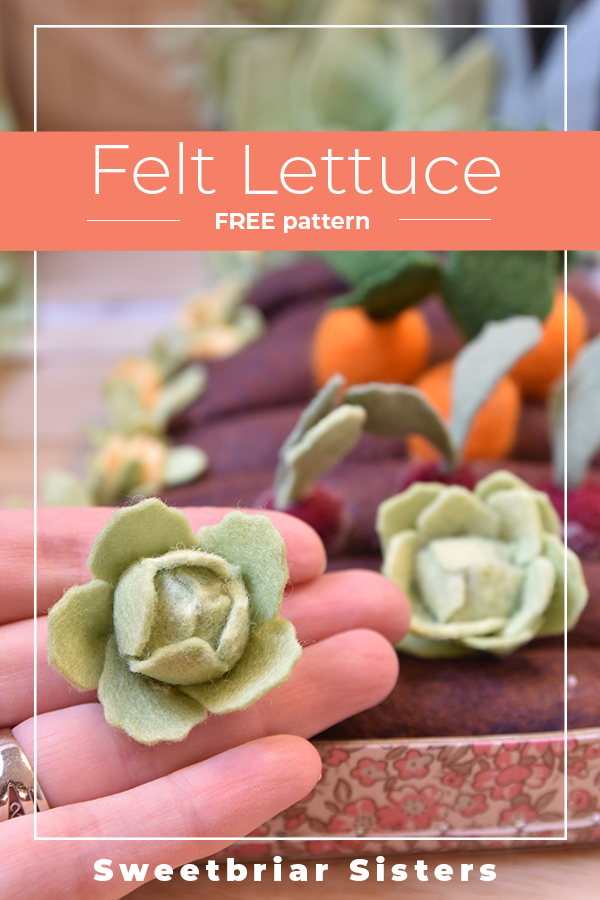 We are moving right along with our Peter Rabbit play set, and today we are doing a miniature felt lettuce tutorial.
I knew when I started on this play set, that we'd need a variety of felt vegetables to grow in Mr. McGregor's garden. I wanted his garden to be interactive, so the veggies could be planted and picked over and over again.
I've made felt food before, but it was always a larger scale. The stuff I made goes in my kid's play kitchen and it is more or less true to size. So cute, but different than the tiny, dollhouse sized stuff I had in mind.
To get started, I invited my good friend and felt floral artist over for a brainstorming session. (you can check out her work here and here) It felt so good to have her there and get to to into all her knowledge when it comes to working with felt.
Together we made a miniature felt lettuce head pattern and I'm in love! It's designed to work with our mini animal family patterns, but would also work in a dollhouse or with those adorable Maileg mouse toys. Erin was even kind enough to let me film her making one, so we've got a video tutorial from an expert that we can all learn from.
So let's get to it, shall we? Here's what you'll need to make your own mini lettuce heads:
Materials for Miniature Felt Lettuce
Getting Started on your Miniature Felt Lettuce
To begin, you'll need to cut 3 small lettuce leaves, 4-5 medium leaves and 5 big leaves. Plug in your glue gun and you're ready to go! You can watch the full tutorial on making your felt lettuce below.