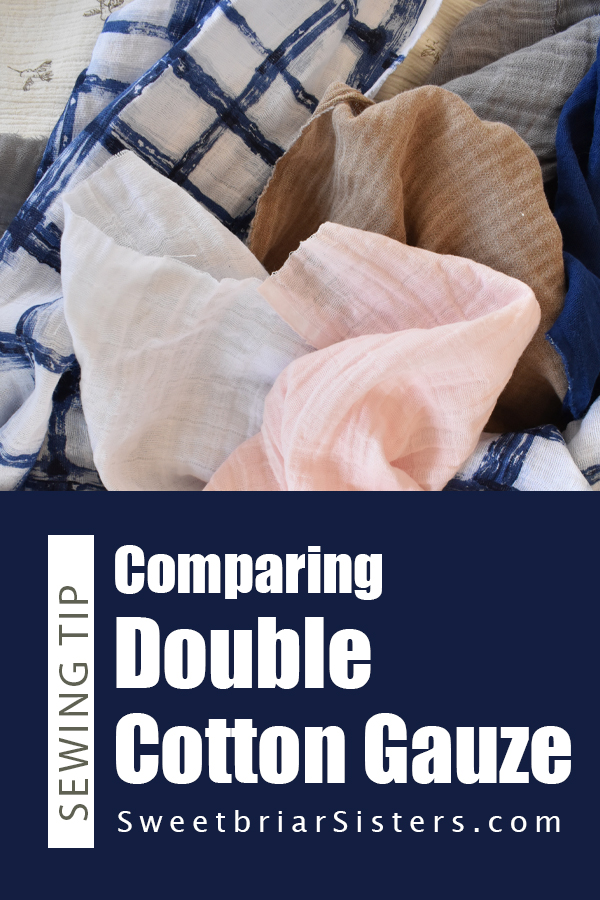 Double cotton gauze is becoming more and more popular in the sewing world, and I decided it was time to compare the different brands I had readily available to me.
I first started to notice this light and airy fabric when we had our son. Most of his swaddles and a lot of his bibs were made from cotton gauze. I didn't even know what it was called, but I loved the texture and immediately started to look into this new fabric choice. It opened up a whole new world for me! It's great for adorable children's clothes, light and airy spring dresses for adults (On my TO MAKE list currently!), and of course makes the most adorable baby items.
So which is the best and where do you get it? I started my search online. We don't have a ton of high quality fabric shops close by, plus I just don't have a ton of energy to drive around to shops, so internet shopping is my best friend. As I searched online, I found that cotton gauze seems to be incredibly popular in Asia. (Again, this is just from my internet research, so real life Asia might tell a different story. But their online presense sure makes it look huge over there!) There are the most amazing prints on cotton gauze from Japan. I'm still drooling over so many of them. I ended up going to Etsy and ordering some from Asia. The fabric I received was beautiful, airy and very delicate. Definitely not as sturdy as I was used to feeling on the baby items I'd used, but definitely beautiful. I decided to set it aside and save it to make myself a nice, delicate scarf.
Then one day I was perusing Hobby Lobby and saw that they carried double cotton gauze. I was so excited to see it in store, and it was definitely sturdier stuff which would work for baby items and clothing. (I'd love to make myself a dress with this stuff. And would love to put out some tutorials on baby items made from it, so I was naturally drawn to the sturdier stuff.) I bought a few yards, shared my find online and was met was told I also I needed to also try the Shannon Fabrics double cotton gauze.
So, pretty soon I found myself with quite a bit of this stuff and I figured it was only fair to share the difference with everyone. So I went full on scientific method for you guys. Well, not really. But I did wash and dry swatches of each AND hold them up against a lightbox so you could see how densely the weave was for each brand. You can see all the details in the video below:
If you don't have time for the full video, here are my general findings:
The asian stuff I found is my favorite for scarves, it is so delicate and beautiful. You can find the Etsy listing by clicking here.
In my opinion, the Shannon Fabrics cotton gauze was the highest quality and would hold up best, especially for baby products that would be washed over and over. I'd definitely use this for stuff I wanted to stay nice for a long time, like a special baby blanket or a dress for myself.
The Hobby Lobby brand cotton gauze was a pretty close 2nd place after one wash. Since you have the option to purchase it with a coupon, it can be almost half the price of the Shannon Fabrics stuff. It would work great for things like baby bibs that will likely get stained etc. with use.
Have you sewn much with cotton gauze? If so, please let us know your favorite brands and any tips or tricks you have picked up along the way!