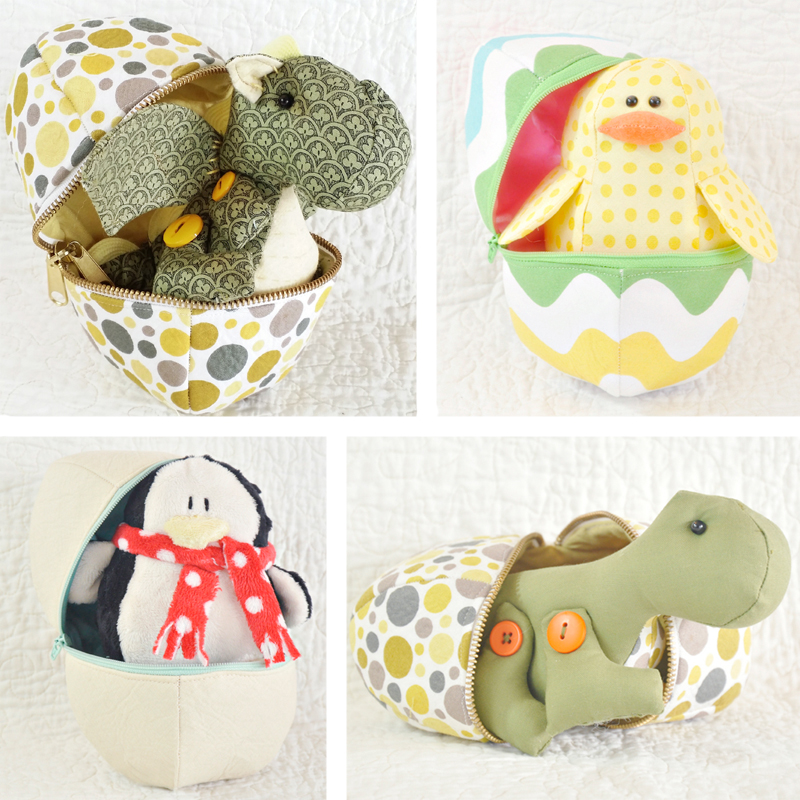 ---
***UPDATE 2/20/2017***  We've been having so much fun selling our baby animal patterns that we made a whole book out of them!  Our Charming Chicks pattern is still available on its own.  If you'd like more baby animals patterns, you can get them all (and more!) in our Hopeful Hatchlings book (click here to learn more)
---
We just published our newest pattern, Charming Chicks and Zipper Eggs, and I'm so excited about it.  Not only does it make an adorable Easter basket filler, but having a zipper egg pattern on hand opens up tons of adorable opportunities. Dino eggs, dragon eggs, penguin eggs… just thinking of this list makes me smile every time!
We've set up some great pattern combos for those of you who need both patterns (click on the photos to see the pattern combo listings) but I thought I'd take a moment and explain how to adjust the patterns for those of you who already own them.
First, we'll do the easiest one. 🙂 Paddy the penguin fits inside our zipper eggs as is, so you just need to sew him up and stick him in a zipper egg made from our Charming Chicks and Zipper Eggs pattern. Easy peasy.
Dalton and the Delightful Dinos take a bit more effort. You'll need to decrease the size of their pattern to make an animal who fits in the zipper eggs. To make these examples, I copied the pattern pieces at 70% the original size. (Click here for a tutorial on reducing the size of a printed pattern)  Additionally, when you decrease the size of these guys, the bottoms of the feet are a little annoying to sew (not impossible, just not super fun).  I think they look just as cute if you leave off the Foot Bottom piece and just sew all the way around the Foot piece.
That's it!  Nothing too fancy, but it sure gives adorable results!  What baby animal will you make to fill your egg?