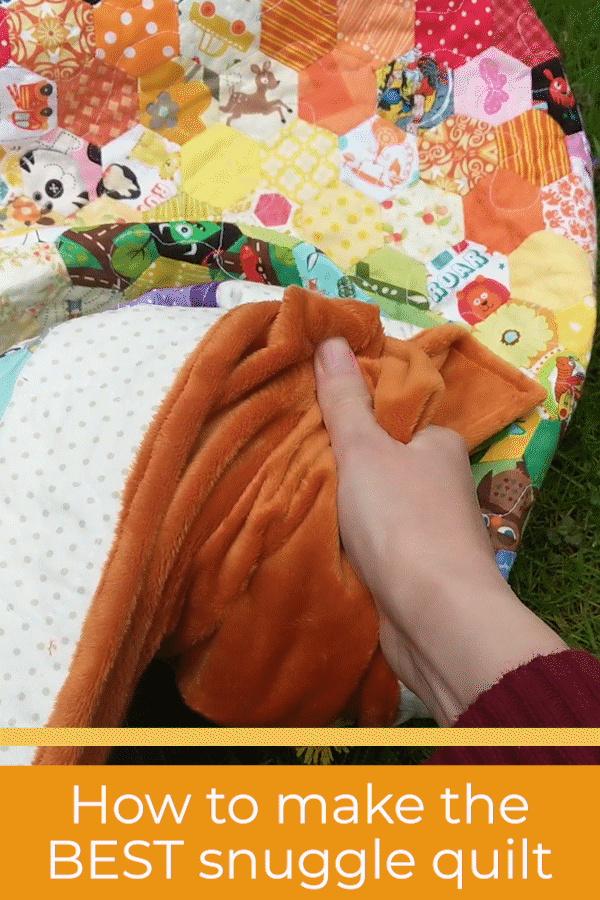 You guys, I love Minky. It is soft and snuggly and I want to cover my own bed with it.
Through the years as I've spoken with moms of young kids, I've found I am not the only one with this love. Time after time, moms will tell me that the quilts their kids end up using and snuggling the most are the ones backed with Minky.
Makes sense. Minky is awesome. But as a quilter, I've always been a little hesitant about the whole idea. Minky is great, but can I take it seriously enough to put on the back of a quilt top I've worked on for countless hours?
I had two main issues. First, I love a nice, tight free motion quilt look. But Minky backed quilts get really thick really fast. Any of the ones I saw with all over quilting felt just felt a little too think to me.
Second, I just worried that the Minky wouldn't hold its softness over time. Cotton can last decades and look wonderful, but Minky hasn't been around long enough for us to know.
So I set out to find answers to these issues. Here's what I found.
First off, my niece has a favorite blanket made of pieces Minky. It is so loved that, in the 6 years it has been around, that thing has been snuggled for thousands of hours and washed hundreds of times. Sure, it hasn't quite help up for DECADES, but it sure has seen quite a bit of wear. She let me hold it once (a great honor, I assure you) and it was a great learning experience for me.
First off, it's important to note that this was made out of a high quality Minky. (I've heard many times that the cheaper stuff sold at big chain stores just doesn't hold up.) There are several lengths of Minky and I notices that on her well loved quilt the short version was still soft and supple even after all that love. The Minky with the longer nap had knotted and bunched a bit. It was still ok, but not nearly as soft as the short stuff. So….
Lesson #1: Short, High quality Minky Stands the Test of Time
After inspecting my niece's crazy well loved blankey, I felt pretty comfortable with using a Minky backing, as long as I picked the right one. But then came the question of the quilting.
I eventually tried a quilt with a nice, loose quilt job. I added a minky back and no batting in the center (Minky is warm enough.) It worked great as far as snuggle factor goes, but it was lacking the crinkle effect that I love so much.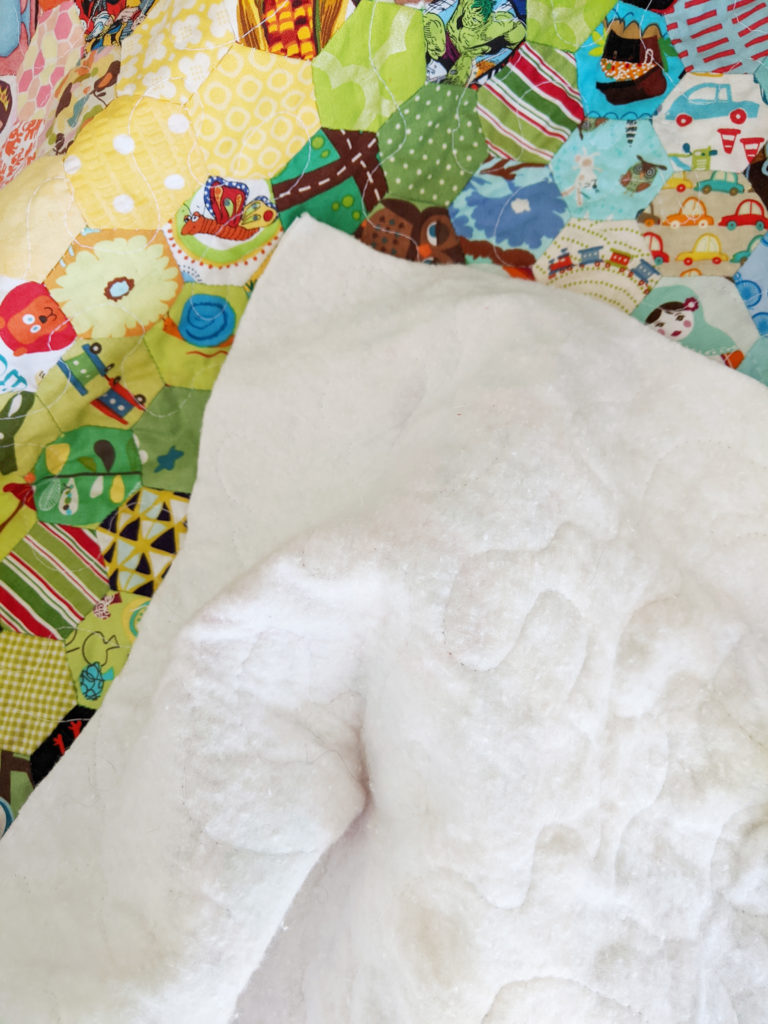 So, I tried a thing. I quilted a mini quilt top to some thin batting with no back. Tight quilting was important to me on this project because I'd hand sewn the piecing (it was a hexagon quilt) and was going to give it to my one year old for snuggling. I really wanted some tight quilting to re enforce those hand sewn seams so it could withstand a toddler's love.
After quilting the top to the batting, I attached the Minky using a simple mitered corner blanket method. (I did a tutorial on this years ago that you can check out.)
The final result was fantastic! Because the back of the quilt wasn't attached, the Minky was free for snuggling. But the front of the quilt still had that adorable crinkly that I know and love. Obviously, for a larger quilt I'd probably want to go in and tack the back to the front here and there to keep things together. But for this little snuggle quilt, the technique was perfect.
As I shared my efforts on Instagram, several followers commented that they'd tried similar methods. One suggested using a few layers of Cotton Gauze instead of batting- it gives the nice lift without the weight of the batting. I definitely want to try that next time!
Their re enforcement of my idea leads me to…
Lesson #2: You can quilt a quilt top without the back!!!
I know this shouldn't be such a huge surprise to me, but I was really excited to find that it works. The results are definitely the most snuggley quilt-topped-Minky-backed quilts I've ever come across, and I'm so excited to keep trying more.