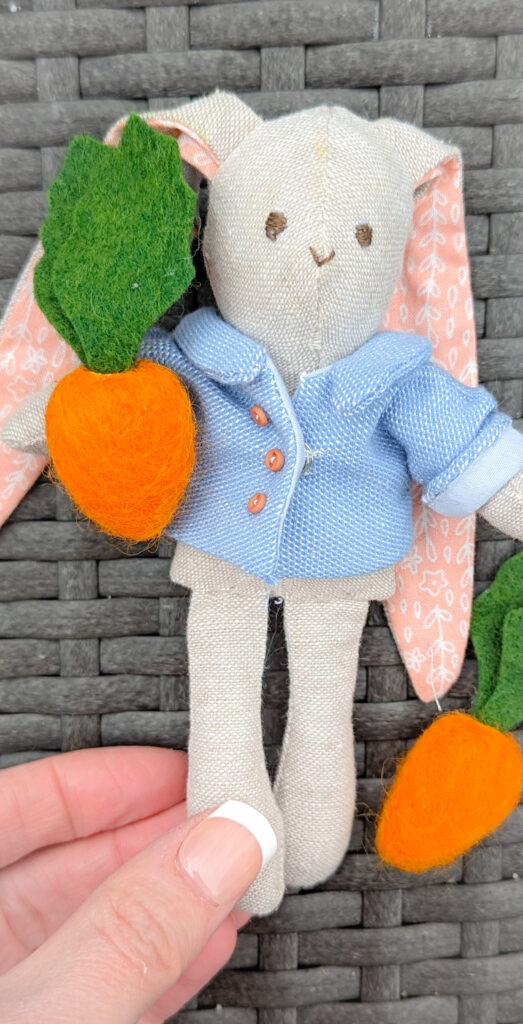 As soon as I decided I wanted to make a Peter Rabbit playset, I knew I'd need to learn how to make a miniature felt carrot.
There are lots of miniature food tutorials out there. Most of them that are small enough for our little dolls are made out of clay. The felt play food that I could find was all way too big for a dollhouse. For some reason I just had my heart set on wool for this project. I set out to create some extra mini food. Turns out, it's easier than I thought. And the carrot is probably the easiest one to make. Here's what you do:
Materials to Make a Miniature Felt Carrot
Step 1: Shaping the Carrot
To shape your carrot, dip your wool felt ball into some warm soapy water and roll it in your hands to shape it into a carrot shape. (See video above for an example.)
Step 2: Cutting Leaves
Next you'll cut 2 leaves out of wool felt, using our free Carrot Leaf Pattern.
Step 3: Attaching the Carrot Leaves
To attach your leaves to the carrot, take a pair of scissors and punch a small hole in the top of the Carrot, just big enough for the leaves to fit. Add a bit of hot glue, and insert the small end of the leaves using a chopstick.
Once your leaves are attached, you're ready to go! Repeat for more carrots and stay tuned for instructions on making your own felt garden. I can't wait to show you the set this will all go with!