I just made up a few snowman balls from Art to Heart's new book Table Please Part Two
 (I have to do holiday things super early or they never get finished!  You can see how they turned out here).  The sound of bells always reminds me of the holidays, so I wanted to put a bell in each one to make them a bit more festive.  Have you ever tried that?  The result is so disappointing!  Instead of the pretty bell sound, you get a little, muffled thud,thud,thud.   So I did a bit of research online to see what I could do to improve results.

First I put the bell in a plastic Easter egg.  It was better than the bell alone, but the egg muffled the ringing a LOT.  I found a blogger who suggested gluing the bell to the side of the egg for a better sound.  I was surprised how much better it was!  Even with the improvement though, it still wasn't quite the pretty jingle that I think of during the holidays, so I kept experimenting.

I asked my Facebook and Instagram followers for advice and learned something very important- lots of sound modules are encased in plastic with a small speaker holes.  Huh.  I'd never really thought about it, but obviously the egg was muffling the noise, so holes made sense.  We also talked about the material of the egg- maybe plastic was too soft?  I went to find something made of metal with holes, and found was I was looking for in the bell section (I feel kind of silly that I'd sat there reinventing the bell…).  I purchased a bell big enough to fit my small bell inside, pried it open and stuck in the bell.  The results were much better!  Definitely not muffled like the egg, but still not perfect.  As the inside bell hit the wall of metal it was a bit more clangy than pretty.  Maybe plastic wasn't so bad after all…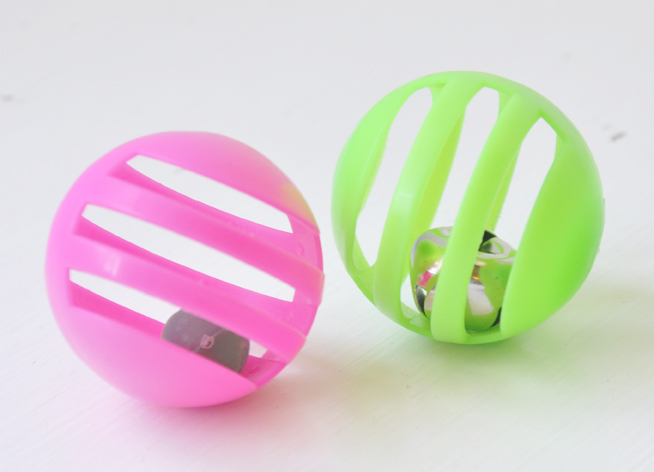 The last try was the clear winner, in my opinion.  One of my Facebook followers suggested using a plastic cat toy.  Genius!  (Thank you so much!) They actually come with a bell inside that is made of plastic, which would make a great option for a toy that will be thrown in the washer over and over. (You don't want the bell to rust!)  I was going more for the sound of a metal bell, so I took out the plastic one and shoved in the metal bell. (The plastic is pretty flexible, so I was able to pull the opening apart enough to get things in and out.)  It was perfect!  My snowmen are now stuffed with their cat toys that make the perfect, holiday jingle. Here are some cat toys
 like the ones I used in case you'd like to have some on hand.  I might even just splurge on this pack of 50
 so I have them on hand for making gifts. (They are so much cheaper in bulk!)
If you'd like to hear the difference  yourself, here's a little video of me jingling each option.  Closing my hand around the object makes a sound about the same as when it's all stuffed into a softie.