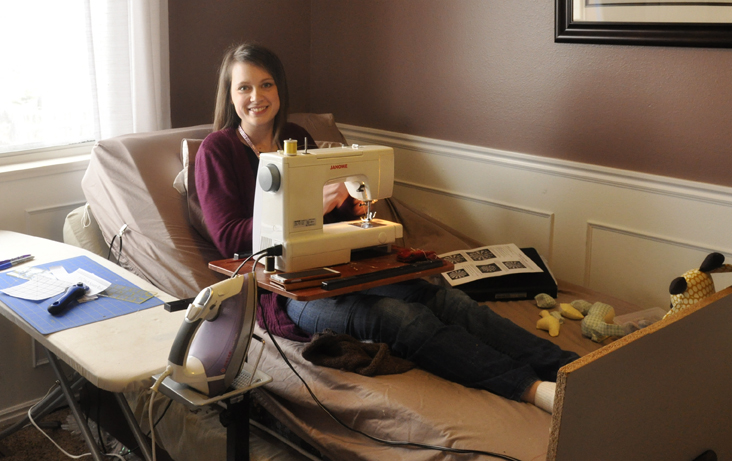 I am so excited about this!  Ever since I started designing and selling sewing patterns I've been so pleased with how well my business fits into my health needs.  When I have a good day, I work on patterns.  When I experience a flare (aka get crazy sick), I can curl up in bed while my patterns sell themselves online.  (hooray for automated PDF sales!)  I am just so pleased to have found a way to do design without any clients pushing deadlines or expectations.
Still, with a chronic illness, even good days aren't so great.  I never feel healthy, just less sick.  My poor little heart just has a hard time keeping up with me when I'm upright, whether that be in a chair or on my feet.  So while the sewing business itself was a good fit for my health, the sewing part had to be reserved for my especially good days.  And even then I only lasted about an hour or so until I had to get horizontal again.
So you see, finding a way to using a sewing machine in bed was kind of a big deal to me.  I've been planning this system out in my head for years (I was hung up on the whole pedal placement issue for a while…).  I am seriously so excited to be trying it out in real life.
Sure, it looks completely ridiculous.  Yes, it does take up an entire bedroom out of our 2 bedroom apartment.  And you know what, I couldn't be happier!  Because of this baby I got to sew almost every day this week.  Life is looking pretty good from where I'm standing lying!