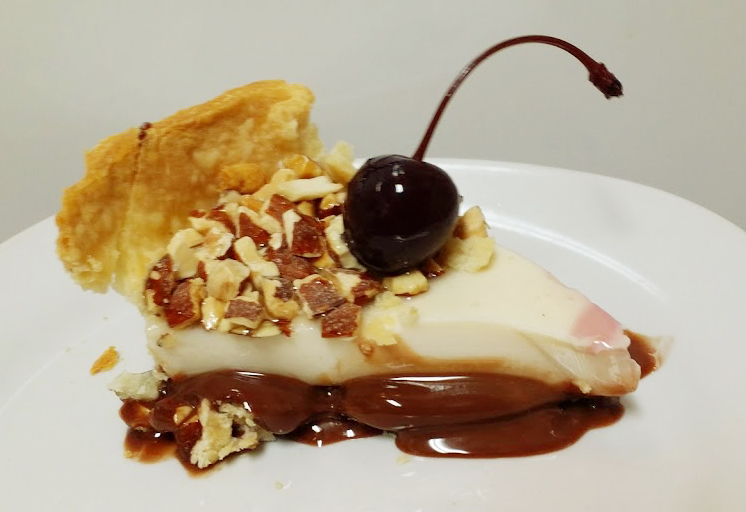 Happy Pi Day!
In honor of this festive day, Doug's office sponsored a pie baking competition.
We taking baking competitions very seriously around here.  You have to go all out.  And you have to enter with an original recipe.  I mean, where's the glory if you win by just copying someone else's idea?!
So last night Doug called me from the grocery store and we frantically brainstormed for a recipe idea  (they only decided on the competition yesterday, so we didn't exactly have a ton of time to prepare).  I've got to say, Doug came out with something brilliant.  Hot fudge layered with vanilla panna cotta and topped with toasted almonds.  And, of course, a cherry on top (couldn't be a Sundae Pie without one!)
I kind of love baking competition day 🙂
Here's how we made it-
Hot Fudge Sundae Pie
1 prepared pie crust, baked and cooled
hot fudge sauce (we just bought a jar of it)
1 1/2 cups cream
1 1/2 cups milk
1 vanilla bean
1/2 cup sugar
2 1/2 teaspoons gelatine powder
maraschino cherries
almonds, chopped and toasted
Spread a thin layer of hot fudge all along the bottom of the crust, you may need to warm up the fudge sauce a bit to help it spread.  (Try to get your hot fudge layer to be less than 1/4″ thick, otherwise your pie will get way too rich!) Set aside.
Prepare Panna Cotta layer as follows:
Place the cream and milk in a saucepan. Use a small sharp knife to split the vanilla bean lengthways, then scrape the seeds from inside the bean. Add the seeds and bean to the saucepan. Slowly bring to the boil over a medium heat. Remove from the heat and set aside for 10 minutes.
Discard bean from cream mixture. Add sugar and return to a low heat. Cook, stirring, for 5 minutes, or until sugar dissolves.
Place 2 tablespoons of boiling water in a small heatproof bowl. Sprinkle over gelatine. Bring a small saucepan of water to boil. Remove from heat. Sit the bowl of gelatine in the water and stir until dissolved. Cool slightly, then stir into the cream mixture.
When Panna Cotta mixture is prepared, carefully pour it into your hot fudge covered crust. (you can let it cool a bit before you pour it, just be sure not to allow it to set up before it's in the crust.  Place pie in the fridge to set up.  We let ours set up over night.
Top with chopped nuts and cherries to serve.