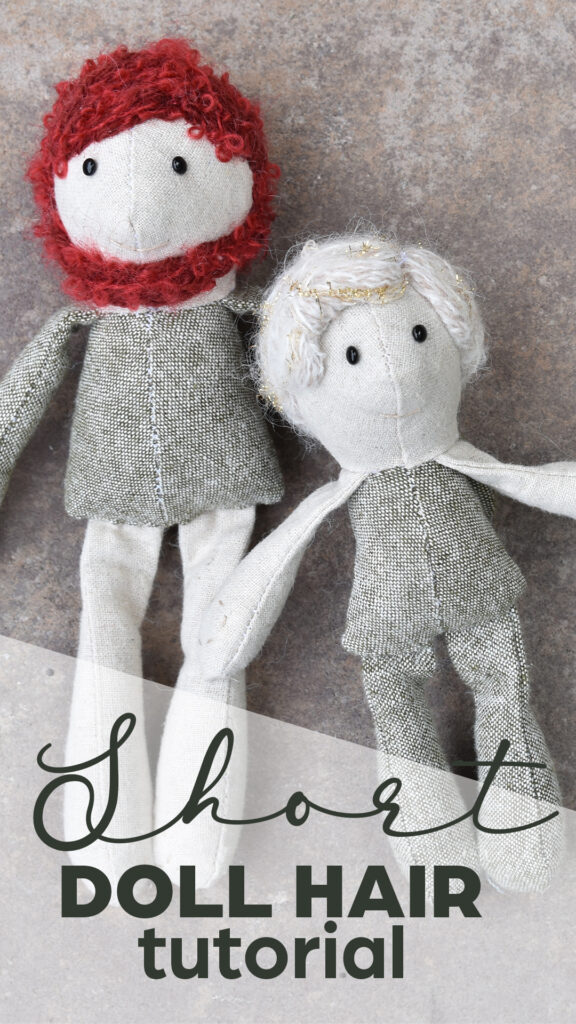 Adding short doll hair is something that has given me a little anxiety in the past. I feel like there are so many techniques for adding long hair, but short hair felt a bit like a mystery. Do you just sew on some felt? Make short spikey hair? I wanted to find something that looked like a styled head of hair, but would give me freedom to make each doll look unique.
I was so excited when I came across this way of adding short hair to a doll. First off, I was excited that it would work on a small doll since I've been working on my Mini Elf Family. I was also very excited about the fact that I could use thin yarn or bulky yarn. It meant that the same technique could give very different looks, which would give each of my dolls their own personality. You can see in the photos that I used thin curly yarn for the Dad elf, and thick bulky yarn for the little brother elf. It's the same exact technique, but a very different outcome.
This short hair technique is pretty similar to our long hair tutorial, in that is uses pins to hold the yarn in place as you sew it to the head. Once you do one way, it's pretty to pick up the other style. And with either technique, you can change things up pretty easily just by using a different sized yarn.
Materials
If you'd like to get started on your own short haired doll, here's what you'll need
pins
yarn
removable marking pen
needle and thread (matching the yarn)
Adding Short Doll Hair
Once you've gathered your materials, you can go ahead and follow along with the process on our video tutorial below. If you'd prefer a photo tutorial, you can find step by step printable instructions in our Mini Elf Family pattern.